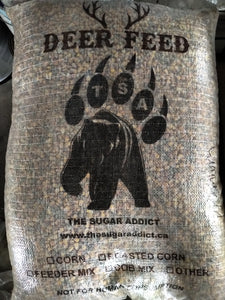 Sugar Addict
Sugar Addict - Premium Deer Feeder Mix
Regular price
$31.99 CAD
$0.00 CAD
Out of Stock
Corn and Roasted Soybeans
The Sugar Addict sought to meet two key targets when mixing their special deer feed blends.  They wanted high nutritional value and it needed to be more attracting to deer than other brands on the market.  They chose to add roasted soybean beans for the following reasons:

-  Adding roasted soybeans to a deer's diet can help improve antler/body size and strength, increase reproductive performance and promote healthier fawns.
-  The aroma of roasted soybeans makes them much more attractive and increases palatability and consumption.
-  Roasting soybeans
before feeding them to your deer or wild life kills mold and other contaminants and makes the beans easier to digest. Roasting ties up the protein in the fiber of the soybeans and allows the protein to be absorbed by the animal, therefore increasing the value of the feed itself.
-  Roasted soybeans are naturally rich in high energy oils, naturally well balanced with body building protein, naturally high in essential vitamins, minerals and trace elements. Roasted Soybeans contain 17% fat, that's three times greater than corn.
---
Share this Product