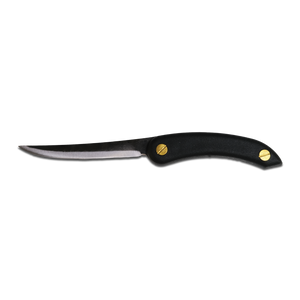 SVÖRD
Kiwi Fish Fillet 4" Carbon Steel
Regular price
$23.00
$0.00
Now in Stock!!
The Ultimate 4" Filleting/Boning Knife
Captain Cook used carbon steel knives on the Endeavour during his voyages to New Zealand, and for the next 150 years the most favoured knives were fashioned from carbon steel.
But in 1913 Harry Brearley, a metallurgist of Sheffield England, invented stainless steel.  He was dubbed "the inventor of knives that won't cut".  
Ever since, fishermen, outdoorsmen and chefs have had to put up with stainless knives that are simple and cheap to make -- but don't cut and are difficult to sharpen. 
At SVÖRD Knives, Bryan Baker insists on using old-fashioned high-carbon steel in the manufacture of all his knives including his new Kiwi Fish Fillet Knife.
Bryan states that "once a fisherman uses a carbon steel knife he would treasure that knife because of it's ease of sharpening and it's ability to cut clean fillets from school fish including snapper through to larger game fish such as kingfish and marlin."
The question most commonly asked by fishermen is "how do I stop the knife from rusting?" The answer is simple: keep the knife coated with fish oil such as cod liver oil, or vegetable oil such as olive oil, soya oil or even Vaseline or CRC tackleguard. 
Bryan says "in Captain Cook's day, fishermen would keep a wooden pail of sawdust nailed to the ship's deck.  The sawdust was saturated with fish oil or even whale oil.  Into this fishermen pushed their knives after use."
(C) copyright, Bryan Baker 2004
Data sheet
| | |
| --- | --- |
| Length of Blade (inches) | 4" |
| Over All Length (inches) | 8.125" |
| Blade Shape | Fish Fillet |
| Handle Material | Polypropylene |
| Steel Specifications | 15N20  Carbon Steel |
| Blade Thickness (mm) | 1.6mm |
| Sheath | PVC Red |
---
Share this Product
---
More from this collection